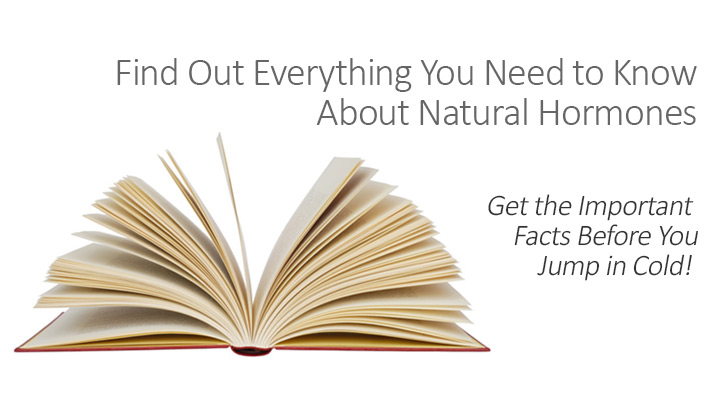 "It's so important that you become familiar with your own body and your own symptoms, and don't let anybody tell you that what you're experiencing is 'just an emotional problem,' or that an antidepressant or tranquilizer is all you need."
Dr. John Lee from What Your Doctor May Not Tell You About Pre-Menopause
These secrets will change your life!
Find out everything you need to know about natural hormones and get the important facts before you jump in cold! Hormones speak to every cell of your body, with important ramifications. The hormone imbalances that led you to this book can be either be addressed properly —or get worse—depending on your hormone balance plan.
From Hormone Balance Made Simple
Learning all you can about hormone balance, and how it affects you in pre-menopause, menopause or breast cancer will let you take control of your own health. After reading these books, you'll have all of the knowledge you need to create a natural hormone balance program that will be successful in helping you virtually eliminate your discomfort.
These health books are the Premium Collection of Everything You Need to Know About Natural Hormone Balance, Bio-Identical Hormones, Natural Hormone Replacement, Perimenopause, Menopause & Pre-Menopause.
Find out more about the books as well as excerpts of book chapters .
To find out more about a book, read about how it may help you, and review any available excerpts from book chapters, just click on the product name or image below. More Information and Articles can be found under the products listed below as well as in the Associated Pages box on the right.
---
---
---
---
---
---
---
---
---
---
More Information and Related Products:
What Your Doctor May Not Tell You About Pre-Menopause Book - Excerpt
What Your Doctor May Not Tell You About Pre-Menopause - Excerpt
Book excerpt to help you understand how to successfully address PMS and its uncomfortable symptoms.
Read more
What Your Doctor May Not Tell You About Breast Cancer Book - Excerpt
What Your Doctor May Not Tell You About Breast Cancer - Excerpt
Details you may never have heard before now in this best-seller by Dr. John Lee about breast cancer.
Read more
Health Knowledge Center Index
Index of Health Knowledge Articles
Health Knowledge Center Index with important, informative articles, books and videos on a wide range of health topics.
Read more
---