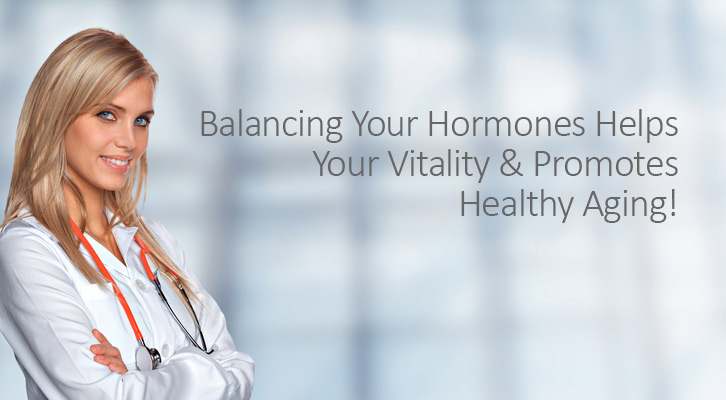 Restoring hormone balance is one of the most important factors for maintaining healthy aging and vitality without discomfort!
Do you remember how it feels to have balanced hormones?
When your hormones are in balance, you have a lot of energy, you sleep easily and wake up feeling rested, your libido is active, you're thinking clearly, your weight is much more even and you are a take-charge person once again! Hormone imbalance running amuck can affect every single one of your body systems from your immune system to your metabolism.
Unbalanced hormones can even stop you from losing weight no matter how hard you try!
Hormone imbalance affects both men and women alike - no one is immune to the changes that occur as we age. As you enter your forties, (for some of us even in our thirties) your body begins to create less hormones...hormone balance is lost, creating unpleasant affects and disrupting life as you knew it.
So How Do You Restore Your Hormone Balance?
First, learning more about how hormone balance affects you and what effective natural products are available are vital in order for you to take action. Our Hormone Balance Knowledge Center is filled with informative articles and is a good place to start.
Next, set up a natural balance program with regular use of natural balance creams, vitamins and minerals to help you restore your natural balance. The consistency of your program, maintained over time, will help you create and then solidify your new level of balanced hormones.
Lastly, hormone tests (collected in the privacy of your own home) can be used to determine if your hormone balance program is working for you and how you can maximize your results! Many women begin using their balance products without taking the saliva hormone test and some choose to get the test after using their products for a while, whatever is best for you!
I've been using your progesterone cream for a while & it has made a world of difference with my hot flashes, irritability & sleeplessness. I have tried several other brands, but none have worked as well as yours. Thank you!
Marta
The Best Approach
You can achieve balance using a number of different approaches, but in our experience, the easiest, most effective and safest way is with the help of Alternative Medicine Network's highly effective, natural balance products.
For women, we suggest starting your balance program with Restore Balance Progesterone Cream along with other support products if needed, including EstroRenew phyto-estrogen, Satisfaction cream, PMS Support, MenoPower, and a few other natural products designed to help you with sleep, stress, energy and overall health and wellness. For men, TurboProRenew and Man Power along with our safe natural products that help create restful sleep, less stress and increased energy are suggested. And, we are now offering a range of Home Health tests to look into hormone levels, sleep issues, weight loss problems, heart health, thyroid health and much more.
This natural balance program has helped thousands of men and women put an end to their discomfort and finally return to their quality of life that was only a memory... Don't wait any longer to put your concerns to rest!
These targeted products as well as knowledge center articles from Alternative Medicine Network are specifically designed to help you succeed with your hormone balance needs.
To get in-depth information about each product, including ingredients, testimonials and directions, just click on the product name or image. More Information and Articles can be found under the products listed below as well as in the Associated Pages box on the right.
---
---
---
---
---
---
More Information and Related Products:
Hormone Balance Knowledge Center - Articles - Books - Videos
Natural Hormone Balance Articles
Hormone balance, PMS, perimenopause, menopause, hot flashes, night sweats, hormone level tests, low progesterone symptoms, and much more.
Read more
Hormone Balance Books
Books on Hormone Balance
These best-selling books are the ultimate hormone balance source books for men and women written by Dr. John Lee.
Read more
Hormone Balance Videos Featuring Dr. John Lee Index
Hormone Balance Videos
Online videos featuring Dr. John Lee - symptoms of perimenopause/menopause, natural hormone balance, and hormone tests.
Read more
Balanced Progesterone Leads to Better Overall Health
Balanced Progesterone Levels Leads to Better Overall Health
Essential to hormone balance, progesterone is the foundation for many body hormones vital to good health.
Read more
Men's Hormone Balance
Hormone Balance for Men Article
Male menopause or Andropause lasts a decade or more, because a man's hormone balance changes much more gradually than a woman's.
Read more
---