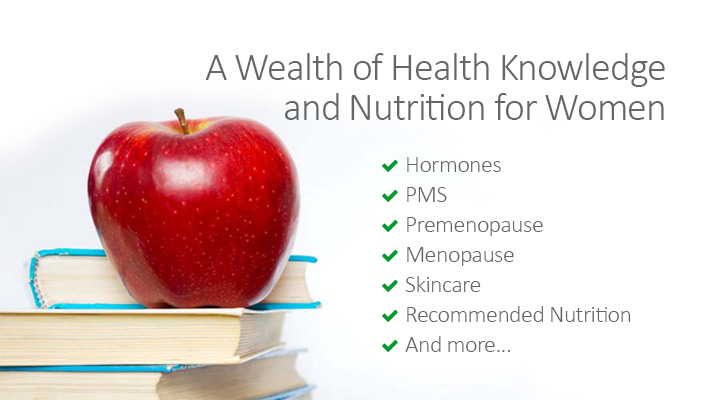 Welcome to the index of Women's Health Articles, Books and Videos found on our Alternative Medicine Knowledge Center. Here you will find information and articles for women on topics such as perimenopause, menopause, hormone balance, natural progesterone and more.
Our library is growing every week. Please be sure to check back with us often to see if there is new information you would like to check out, or sign up to have new articles delivered personally to your desktop.
To read an article of interest to you, simply click on the article name.
---
More Information and Related Products:
Balanced Progesterone Leads to Better Overall Health
Balanced Progesterone Leads to Better Overall Health
Essential to hormone balance, progesterone is the foundation for many body hormones vital to good health.
Read more
Bio-Identical Hormones Affect Menopause and Perimenopause
The Bio-Identical Hormone Secret Article
BHRT - The secret to breezing through perimenopause and menopause.
Read more
Bone Loss FAQ's
Frequently Asked Questions About Bone Loss
FAQ's about bone loss and bone loss analysis.
Read more
Easy Menopause and Perimenopause
You Can Laugh at Menopause if You Follow this Simple Plan Article
Being informed about natural hormone therapy such as natural progesterone, diet, exercise and attitude and following this simple plan makes all the difference in the world.
Read more
Excess Estrogen Symptoms
Excess Estrogen Symptoms
Do you have too much estrogen? Find out about the effects of excess estrogen.
Read more
Get Off Synthetic Hormones
How to Wean Yourself Off of Synthetic Hormones Article
2002 Women's Health Study overcame the idea that synthetic HRT drugs were good for age-related diseases; droves of women began to stop taking them.
Read more
Health Source Books Index
Books on Hormone Balance and Health
Best-selling books by Dr. John Lee are the ultimate health source books for all aspects of premenopause & menopause.
Read more
Hormone Balance Made Simple Book Excerpt
Hormone Balance Made Simple - Chapter One
Guide to natural hormone balance, symptoms, hormone dosing, calendars and more by Dr. John Lee & Virginia Hopkins.
Read more
Hormone Balance Videos Featuring Dr. John Lee Index
Hormone Balance Videos
Online videos featuring Dr. John Lee - symptoms of perimenopause/menopause, natural hormone balance, and hormone tests.
Read more
I Had Extreme PMS
I Had Extreme PMS Article
One woman shares her story of how she has dealt with the trials of extreme PMS. Can you relate?
Read more
Menopause FAQ's Exercise
Most Asked Questions About Menopause and Exercise Article
Exercise's importance during menopause + natural products that may help you deal with menopause symptoms stopping you from being motivated to work out!
Read more
Menopause FAQ's Fatique
Most Asked Questions About Menopause and Fatigue Article
Menopause fatigue and simple ways to address fatigue with exercise, natural progesterone, phytoestrogens, and more.
Read more
Menopause FAQ's Hot Flashes
Most Asked Questions About Menopause and Hot Flashes Article
Hot flashes during perimenopause and menopause and simple ways to address hot flashes with bio-identical hormone balance using natural progesterone and phytoestrogens.
Read more
Menopause FAQ's Insomnia
Most Asked Questions About Menopause and Insomnia Article
Hormone imbalance may cause your insomnia - natural herbs and natural hormones such as progesterone could help you catch some ZZZZ's.
Read more
Menopause FAQ's Lifestyle Changes
Most Asked Questions About Menopause and Lifestyle Article
Going through menopause may mean you need to change your lifestyle, how you eat, sleep and exercise!
Read more
Menopause FAQ's Mood Swings
Most Asked Questions About Menopause and Mood Swings Article
Mood swings and simple ways to address them with bio-identical hormone balance using natural progesterone and phytoestrogens.
Read more
Menopause FAQ's Night Sweats
Most Asked Questions About Night Sweats Article
Night sweats causes, unusual ways women deal with night sweats and how hormone balance and progesterone may help.
Read more
Menopause FAQ's Part 1
Most Asked Questions About Menopause and Menopause (Part 1) Article
FSH & LH levels and what they mean to you, the symptoms of menopause and the stages of menopause.
Read more
Menopause FAQ's Part 2
Most Asked Questions About Menopause and Menopause (Part 2) Article
Your body during menopause, if you can still get pregnant, & why progesterone creams are more effective than pills.
Read more
Menopause FAQ's Part 3
Most Asked Questions About Menopause and Menopause (Part 3) Article
Your sleep patterns during menopause, your sex life, & if you need to take different vitamins during this stage of your life.
Read more
Menopause FAQ's Weight Gain
Most Asked Questions About Menopause and Weight Gain Article
Menopause and hormone imbalance may mean weight gain and why it all seems to end up around your middle!
Read more
Natural Hormone Balance
Natural Hormone Balance and Herbal Remedies
Safe treatments that address the complex health issues of menopause. When "ineffective" means effective.
Read more
Natural Progesterone Cream
Natural Progesterone Cream
Why natural progesterone cream is more effective than pills.
Read more
Natural Progesterone vs Pills
Progesterone vs Pills
The difference between using natural progesterone and taking pills.
Read more
Natural vs Bio-Identical Hormones
Natural vs Bio-Identical Hormone Balance Article
Natural progesterone is identical to the progesterone made in the human body - bio-identical and the process to create it.
Read more
Night Sweats Cause
The Cause Of Night Sweats Article
What causes night sweats? They won't last forever, especially if you follow the advice of menopause expert John Lee, MD.
Read more
Perimenopause FAQ's (Part 1)
Most Asked Questions About Pre-Menopause (Part 1) Article
What is really normal during perimenopause, perimenopause symptoms and why perimenopause may start before you expect it.
Read more
Perimenopause FAQ's (Part 2)
Most Asked Questions About Pre-Menopause (Part 2) Article
When you move from perimenopause into menopause, irregular periods and how natural hormones such as progesterone can help.
Read more
Perimenopause Symptoms and Solutions
Perimenopause Symptoms and Solutions
The transition to perimenopause, symptoms, and shifts in hormone balance.
Read more
PMS Progesterone
PMS and Progesterone Article
Suffer from PMS? Find out what Dr. John Lee says about the relief progesterone offers!
Read more
Progesterone
Progesterone
Progesterone is NOT progestin. Progesterone is a natural hormone made in a scientific process. Find out the differences between progesterone and the synthetic progestin.
Read more
Progesterone & Pregnancy
Progesterone and Pregnancy Article
There is some evidence that the decreased progesterone production in women who eventually miscarry is not a cause of the miscarriage, but a result of a pregnancy that - for reasons we don't always understand - didn't "take.".
Read more
Progesterone Facts
Progesterone Facts
Progesterone facts, what progesterone is and how progesterone was discovered. Neither yam nor progestin are progesterone.
Read more
Progesterone Natural Hormones
What is a Natural Hormone Article
Are all hormones on the market truly natural? The differences between synthetic and natural hormones and their effect on your well-being.
Read more
Symptoms of Low Estrogen
Symptoms of Low Estrogen
Are you being affected by low estrogen levels?
Read more
Symptoms of Low Progesterone
Symptoms of Low Progesterone
Are suffering from the effects of low progesterone levels?
Read more
The Benefits of Phytoestrogens
The Benefits of Phytoestrogens
Phytoestrogens and how they can help you create hormone balance.
Read more
The Menopause Book
What Your Doctor May Not Tell You About Menopause Book
Dr. John Lee's ultimate source book on menopause, hormone balance, natural hormones, progesterone, hormone tests and more.
Read more
The Pre-Menopause Book
What Your Doctor May Not Tell You About Pre-Menopause Book
Dr. John Lee's ultimate source book about pre-menopause including PMS, irregular periods, natural hormones, progesterone, hormone balance and more.
Read more
What Your Doctor May Not Tell You About Breast Cancer Book - Excerpt
What Your Doctor May Not Tell You About Breast Cancer - Excerpt
Details you may never have heard before now in this best-seller by Dr. John Lee about breast cancer.
Read more
What Your Doctor May Not Tell You About Pre-Menopause Book - Excerpt
What Your Doctor May Not Tell You About Pre-Menopause - Excerpt
Book excerpt to help you understand how to successfully address PMS and its uncomfortable symptoms.
Read more
35 Menopause Challenges
35 Menopause Symptoms Article
The 35 issues women can experience during "the change".
Read more
Progesterone PMS
Rolling in Clover Natural Phytoestrogen
Rolling in Clover (Red Clover) Article
Red Clover is one of the natural phytoestrogens that has helped many women get relief! Learn more about how it works.
Read more
Why Test Your Hormone Balance Levels
Why Test Your Hormone Balance Levels
Painless home hormone tests determine current hormone levels, crucial to developing an effective hormone balance plan.
Read more
Why You Should Test The Air You Breathe
Why Test The Air That You Breathe
Air quality home tests to discover if you are experiencing health issues resulting from contaminated air from mold, bed bugs, radon or other toxins.
Read more
---