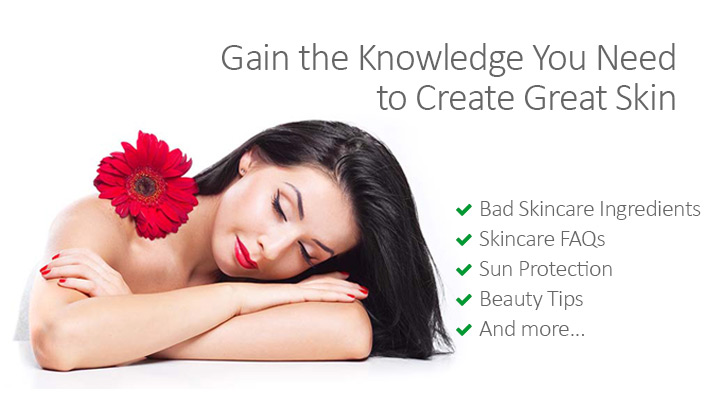 You Can Have Incredible Skin!
Understanding more about your skin and the changes you will see in skin texture, elasticity and wrinkles as you enter perimenopause and menopause is vitally important to your success in keeping your skin looking its best.
Here are articles on skin care to help you gain the knowledge you need for great skin!
---
More Information and Related Products:
Skin Care Ingredients
A Dictionary of Skincare Ingredients
A listing of skincare ingredient definitions.
Read more
Harmful Skin Care Ingredients
Bad Ingredients in Skincare
A listing of ingredients found in skincare that could harm your skin.
Read more
Look Your Best on Your Wedding Day
Beauty Tips for Your Wedding Day Article
Planning weeks ahead with great skincare and skin care treatments can help you bring out the beauty in your skin.
Read more
Skin Care FAQ's
Frequently Asked Questions About Skincare Treatment Products
Get answers to your most frequently asked questions about our skincare treatment products.
Read more
Skin Care Product Checklist
Our Checklist to Help You Find The Most Effective Skincare for You
Take advantage of this checklist to find the most effective skincare designed for your needs.
Read more
Rosacea Triggers
Rosacea and Your Skin Article
Documented triggers that are known to lead to rosacea attacks for those suffering from this skin condition. How you can prevent future attacks.
Read more
Proper Sun Protection for Your Skin
Sun Protection and Your Skin Article
Discover the best ways to protect your skin from sun damage.
Read more
---